When you need brake service, visit Melville Chevrolet Buick GMC. Our Certified Service experts can provide you with advice on a variety of quality brake parts and help you get safely—and confidently—back on the road.
Overview
Your brakes are one of the hardest working parts of your vehicle. It takes the team of service experts at your dealership, backed by the very best certified brake parts, to get the job done right.
30-DAY PRICE MATCH ON BRAKES
If you purchase an aftermarket brake from your Certified Service dealer and later find a better price on a similar brand within 30 days of the purchase, we'll refund the difference.1
SIGNS OF REGULAR WEAR ON BRAKE PADS, SHOES, HOSES, CALIPERS, & ROTORS
The major components of a braking system, listed below, will need to be repaired or replaced as part of regular brake service and maintenance.
Brake Caliper
The brake caliper is a hydraulic clamp that pinches the brake pad onto the brake rotor.
Signs of wear:
Brake lockup
Vehicle pulls to the left or right when brakes are applied
Reduced braking force
Spongy brake pedal feel
Brake pedal pulsation
Longer stopping distances
Fluid leakage near caliper
Brake Pads
These flat pads comprised of frictional material make contact with the rotor, bringing your vehicle to a stop.
Signs of wear:
Chirping, grinding, or squealing noise
Difficulty stopping
Low brake-pedal height
Brake Rotors
Your brake rotors are rotating discs that help slow or stop the vehicle when brake pads make contact.
Signs of wear:
Brake-pedal pulsation
Squealing or grinding noise
Low brake-pedal height
Vehicle pulls to the left or right when brakes are applied
Brake Shoes
Used in rear drum braking systems, brake shoes press against the inside of brake drum, slowing and stopping your vehicle.
Signs of wear:
Low brake-pedal height
Longer stopping distances
Squealing or unusual noises
Brake-pedal pulsation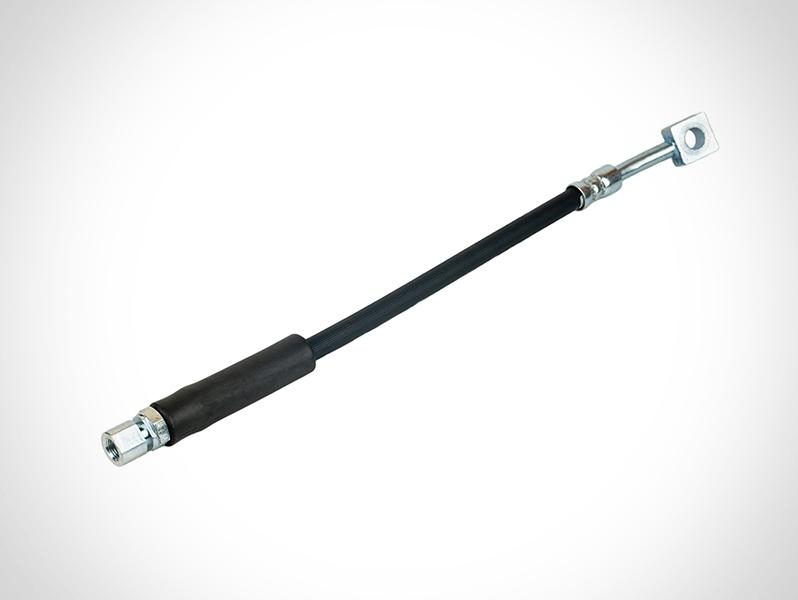 Brake Hose
The brake hose carries brake fluid from the solid-steel brake lines on your vehicle's frame to the caliper (disc brakes) or wheel cylinder (drum brakes). Flexible brake hoses are necessary to allow the caliper or wheel cylinder to move freely with your vehicle's suspension.
Signs of wear:
Spongy brake-pedal feel
Visible hose cracks
Fluid leaks
Damp appearance on hose
Vehicle pulls to the left or right when brakes are applied