Your New Vehicle
Todays most reliable and trusted protective solutions!
Undercoat
Undercoating is a permanent, durable coating applied to the underbody of your vehicle protecting and insulating it against moisture, extreme temperatures, road noise and corrosion. Canadian roads and weather conditions are hard on your vehicle. Deep puddles, uneven pavement, loose gravel, and road salt can all shorten the life of your vehicle's undercarriage. Undercoat protection is specially formulated to preserve a car's most vulnerable, high-impact areas. It seals out moisture and protects against road salt. Because of its pliability, it won't crack, peel or chip.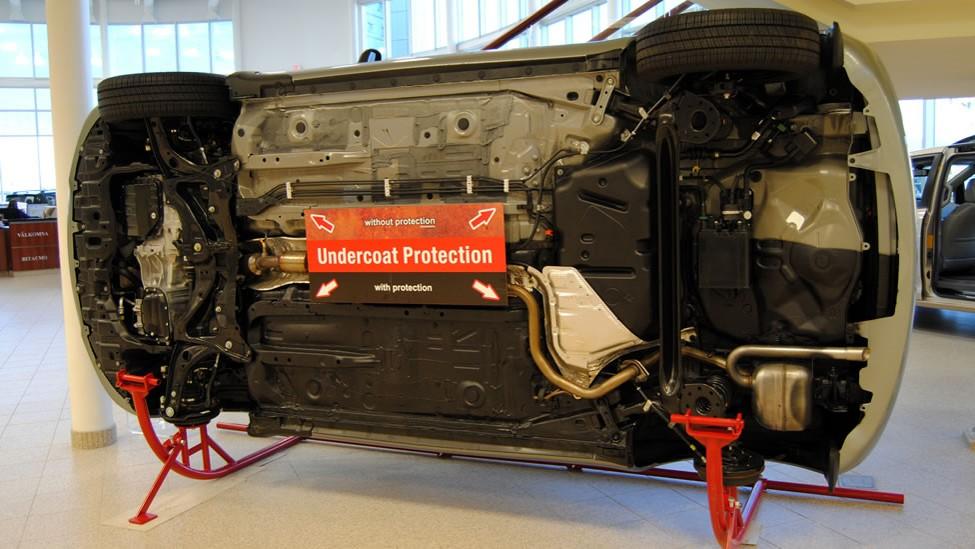 Exterior Paint
Keep your new vehicle looking new. Forever. Paint Protection is a unique, chemically balanced barrier between the destructive elements of nature and your vehicles new paint. The sun's powerful UV rays will cause your vehicle or RV's paint to fade and the clear-coat finish on your vehicle or RV's painted surface is uneven, allowing dirt, salt, pollutants, and moisture to get trapped. This can dull your vehicle or RV's finish, ruin its look, and affect its resale value.
Platinum Shield Paint Protection is a long-lasting sealant that enhances the paint's clear coating. It protects paint from fading by reflecting UV rays and its durable finish leaves the surface significantly smoother with no need for waxing.
An Environmental Paint Guarantee upgrade is available for vehicle plans which also protects against damage caused by acid rain, tree sap, and bird droppings.
THE ENEMY
Fading
Oxidization
Ultraviolet rays
Pollution
Tree Sap
Bird Droppings
Car Wash Chemicals
Road Salt
Acid Rain
Leather/Vinyl
This invisible applicant creates a barrier that protects all fabric/leather/vinyl surfaces from spills and discoloration.
Vinyl Shield maintains the natural moisture balance in leather to ensure that it remains smooth and supple for an extended period of time.
THE ENEMY
Accidental Spills
Food Stains
Car Seats
Pet Hair/stains
Blue Jeans
Rust Proofing
Corrosion of metal is an electrochemical process that can never be entirely stopped, but it can be slowed significantly with the right technology.
A computer controlled low voltage current directs free electrons away from the metal of the vehicle toward the anodes on the module, keeping your vehicle rust free.
THE ENEMY
Condensation
Freezing Water
Road Salt
Humidity
Spot welding
Time
XPEL Paint Protective Coating
XPEL raises the bar once again with an unparalleled high gloss finish and improved impact protection for enhanced durability, making it the most advanced paint protection film on the market. A virtually invisible urethane film; It protects your vehicle's paint from unsightly damage and maximizes re-sale value.
The products we offer are meticulously tested and proven to perform under the harshest conditions around while maintaining the best possible appearance. Trust XPEL to be the only thing between you and the open road.